Welcome to Lincoln Class
Click on the picture to go to our pupil page

Keep up to date and in touch via our class twitter page: https://twitter.com/LeasStAndrews1 , Teams and scroll down on this webpage to see some photographs of what we have been up to...
Our PE days this term will be Tuesday and Thursday. Children will need to come to school in PE kit on those days.
Summer Term 2021 - BRIGHT SPARKS
Welcome back to school for an exciting summer term in Year 1. Read our curriculum letter to find out more!
On our first day back we enjoyed exploring the nature area and using our senses to learn about 'Creation' for RE: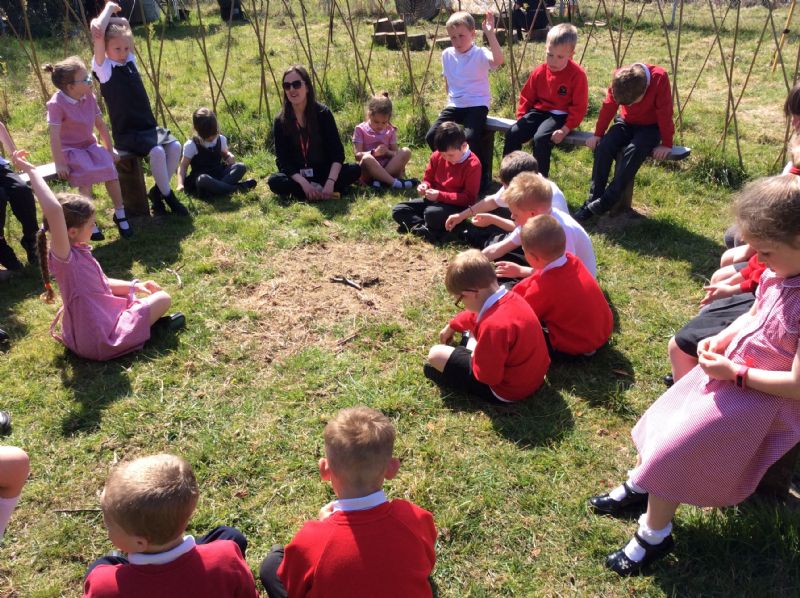 Spring Term 2021 - HOME AND AWAY
This term involved school closures and learning moved onto Teams.
Autumn Term 2020 - SUPERHEROES
Autumn 2
Week 7
In our final week of term we enjoyed activites about 2D shapes. Some of us made snowflakes using cutting skills.
Week 4-6
We have had a busy last few weeks of term. We particularly enjoyed making decorations for the Christmas tree at the front of school.
Week 2 and 3
We enjoyed returning to school at the end of Week 3. We particularly enjoyed sketching our self portraits in Art.
Year 1 isolating at home plans, resources and worksheets are attached below:
Week 1
We had a great start back after half term. Some of us practised the 'ear' sound in phonics. Our favourite activity of the week was making superhero masks in art on the ipads!
Autumn Term 2020 - SUPERHEROES
Autumn 1
Week 8
In PE this term we have been doing Superhero dance/gymnastics lessons and running lessons. In the last couple of weeks we were learning about relay races in our running lessons. We finished the term by doing a relay race in our house teams!
Week 7
We have enjoyed learning about senses in science. We did an investigation when we used our eyes, nose, mouth, hands and ears to look, smell, taste, feel and hear different objects to help solve a superhero mystery. We had to use our senses to find to colour clue that led us to JackJacks favourite toy!
In English we have been learning about description. We used whiteboards, tricky word mats and sentence prompts to help us with our independent writing. We have been enjoying our Superworm story.
Week 6
In Maths we have been learning number bonds within 10. We have worked hard on all of our activities. We also particularly enjoyed our PE lessons: doing superhero dance and learning to relay race using batons.
Week 4 and 5
In Maths we have practised spelling our numbers as words, as well as comparing numbers using key mathematical vocabulary. In English we have been learning to rhyme, we have enjoyed 'Room on the Broom' by Julia Donaldson. We have also been working hard on our phonics, handwriting and spellings. In Science we have learned about parts of the body. In ICT we have practised typing and instructing a bee-bot. We have begun to look at the 'Big Frieze' in RE. In DT we have started transferring our designs onto our moveable superhero templates.


Week 3
We have worked hard this week and have settled into Year 1 well. We have started our Maths No Problem lerning and enjoyed maths activities inside and outside too.
Our finished artwork is now looking lovely on the wall. This week we also enjoyed having a go at more collage independently.


Week 1 and 2
We have enjoyed lots of different activities since being back at school. Here are some pictures to show what we've been up to:
We have all practised logging onto spelling shed on the ipads and having a go at aspelling challenge. We have shown off some of our skills in phonics and maths. We have used play-dough to practise our fine motor skills. We have begun our running skills and superhero dance lessons in PE. We have worked together as a class in Art to make a superhero collage. These are just some of the activites we have got up to. We are proud of what we have done so far and are looking forward to more learning in Year 1.
Year 1 parent letters and information:
Microsoft Teams
Lincoln Class will be using Microsoft Teams. Please read the documents below.
Meet and Greet
Please click on the link below to view the PowerPoint slides which will give you a variety of important information about Year 1:
Welcome back!
We enjoyed making these buildings using paint and sponges when we had our transition day in Year 1. We also made the twinkling stars. They look lovely in our reading corner.